What does "event technology" even mean?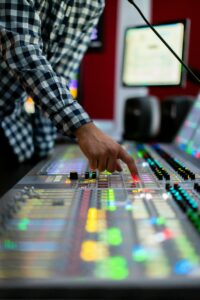 Welcome to our blog post about the use of technology in events. Here, we are going to try to explain to you the way in which events can, and do, benefit from technology.
When it comes to the world of tech, things move quickly, and event technology is no different. Event tech covers a whole range of devices and mechanisms. From loudspeakers and amps, to lighting, power distribution and rigging. It even includes software for things like Computer Aided Design (CAD) or stock management, as well as social media and online event management tools.
Below we will list the various types of technology primarily used in events. The list is by no means exhaustive but should give you a pretty good understanding of what we mean.
Examples of event technology;
Loudspeakers
Intelligent Lighting
Static Lighting
Projectors
Displays & TVs
Hoists
Augmented Reality
Virtual Reality
Software
Why use technology in events?
There's really no doubt that technology will continue to advance at an ever-increasing rate. It is engrained in almost every facet of our lives. Technology should rarely be the focus of an event, but more of a means to express ourselves and be more creative. By keeping ahead of the trend, event organisers can gain a competitive advantage over their competitors and gain new customers by offering a wider range of services. Technology can often provide a wow factor for your guest which ties in to building lasting memories around your brand.
How does technology improve events?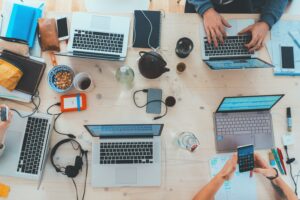 From a planning perspective, event tech can help a great deal. There are many systems available to help design and plan your event. Events often have tight turnarounds, and lots going on and the more efficient you can become the better. An example of software that an event technology provider may use is Current RMS. This online based software tracks inventory, customers, venues, and much more besides.
For audio and visual technology, advances have made sure that fixtures remain as discrete as possible while having the highest possible performance. Moreover, people are becoming increasingly conscious of their energy use and constantly seek to reduce their carbon footprint, which is why, along with low heat output, LEDs have become the favoured light source in the majority of fixtures.
Millennials now make up the majority of the labour force, and Gen Z are coming up quickly behind them. This means for corporate events; the majority of the attendees are going to understand and appreciate technology much more than in years gone by.
How can technology enhance experiential events?
Through the use of technology, companies can push the boundaries and open up a whole new world of possibilities. Experiential events are events that have direct customer interaction, using tangible assets to build long lasting bonds with customers. This style of event can benefit greatly from display and projection technology. For example, using ultra short throw projectors and projection mapping, we are able to cover large sections of walls or other objects with custom made interactive elements.
What does the future hold?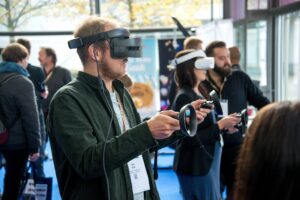 It has always been a challenge to predict the time frame with which advances are made, however, it looks as though Augmented Reality (AR), and Virtual Reality (VR) are set to make waves. These technologies will bring a whole new level to experiential marketing that has never been seen before. From augmented experiential events to completely virtual events experienced in your own home, there really is no doubt that things are going to change.
Conclusion
Integrating technology into events is becoming ever more popular and those that use it correctly are seeing massive benefits. At London Sound and Light, we are experts in this field and have spent many years honing our skills and knowledge to be able to advise you accordingly. For a look at what kind of technology we stock, you can visit our rental catalogue, or get in touch for a custom made solution for your event.