The Ultimate Guide to the Best DJ Equipment in the World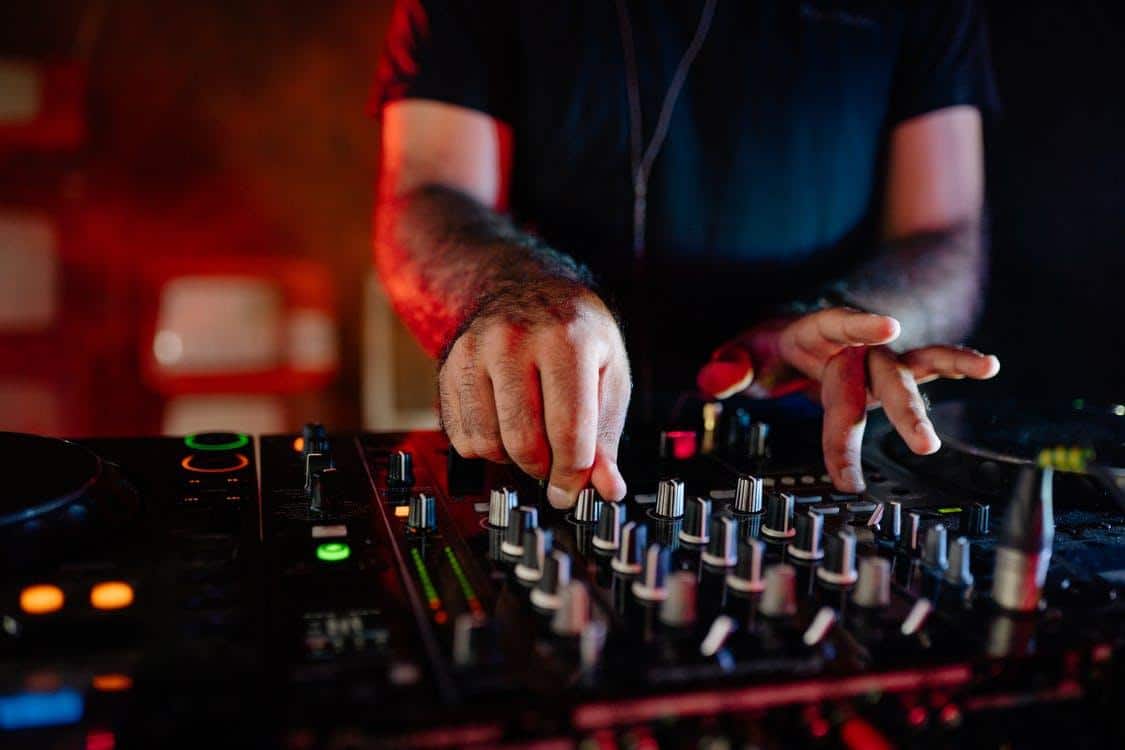 With the history and evolution of DJ equipment, selecting the right DJ equipment in London or anywhere in the world can be overwhelming.
The sheer number of brands, styles, prices, and features make it hard to pick the right tools to help you mix and play like a pro.
That's why we've tailored this guide to provide you with some of the best DJ equipment you should buy or hire in London for your event.
Plus, this guide helps eliminate all the guesswork you probably would have done, looking for the best DJ equipment in London for hire or purchase.
But, before we dive into the equipment, they are some crucial factors you'll have to consider when choosing DJ equipment.
Let's get started, shall we?
Factors to Consider When Choosing the Best DJ Equipment
When choosing the best DJ gear, you should consider a few factors. First, what type of music do you intend to play? This will determine the type of equipment you need.
Secondly, the money you're willing to spend. It is important because the best gear can be expensive. Third, how big is the venue you'll be playing in? This will help determine the size of speakers you need.
Fourth, how many people do you expect to be at your event? This helps determine how much power your speakers need. Fifth, what other equipment do you need? It includes things like turntables, mixers, and headphones.
Lastly, how experienced are you with DJing? If you're new to DJing, choose beginner-friendly equipment.
Understanding the basics is also good before diving into more complex tools. The more experience you have, the more features and options you may need.
DJ Mixers
A good DJ mixer is an essential piece of equipment for any serious DJ. They come in vast shapes and sizes, but all have the same basic purpose: to help you mix music seamlessly.
Allen & Heath XONE 23
To maintain the backbone of the top DJ equipment list, we want to start with a high-end, strong piece of machinery for mixers.
A new and enhanced version of the XONE 22, this mixer (known for its higher-quality DJ gear) is still intended for novices searching for a dedicated high-performance mixer.
The XONE 23 has been updated and greatly enhanced in headroom, increasing it from 8db to 20db and the output from 25db to 28db.
This DJ mixer contains low-pass and high-pass filters and frequency and resonance controls. In addition, it is outfitted with a brand-new resonance dial and a VCF filter system (basically the mixer's processor to manage voltage and amplify your sounds).
Whether you're looking to hone the quality of your recordings or want the best way to operate two turntables simultaneously for mixing and scratching, this mixer has almost everything you need.
Furthermore, this model includes a power switch on the back of the mixer and multi-colour effects buttons for increased efficiency.
Pioneer DJ DJM-900NXS2
Pioneer's DJM series is perhaps the most ubiquitous DJ equipment in clubs worldwide.
While many DJs favour Rane mixers or Allen & Heath in the DJ booth, Pioneer's dominance isn't without reason.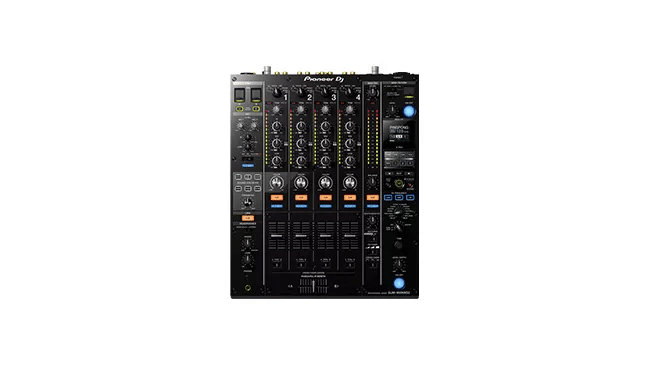 The flagship of the DJM series displays the brand's years of experience producing quality, pro-level DJ gear.
The 900NXS2's extensive feature set is what stands out the most. There aren't many gaps between the filters, channel EQs, dual USB ports, and mic inputs.
There's also a plethora of effects, such as reverbs, beat repeats, flangers, and the brand's signature 'Sound Color FX,' which provide a variety of dynamic transitions and develop sounds. There's also a send/return for connecting external processors through audio or USB.
Numark M2Black
We adore this pick for a more conventional, fewer bells and whistles, and a far less expensive DJ mixer.
NumarkM2 is a 2-channel DJ mixer that lets you be yourself while customising your records and controlling the essential turntable and overall mix settings.
It has a three-band EQ combined with gain on each channel, providing the essentials needed to capture your audience's attention and the best choice for your scratch.
DJs will love it because the fader is incredibly silky on top of it all.
The Master and Record (RCA) inputs, as well as the two switchable inputs, not only make this a very accessible mixer, but they also allow you to build your sound more easily.
There's no USB here, but that's not necessary with a mixer unless you want to sync it with your DAW – these are normally for more classic DJ setups with a mic and two turntables.
The switchable phono inputs are ideally suited for turntables and CD players, but they may be used with virtually any other source.
Don't pass up this opportunity because the Numark M2Black is one of the few mixers that doesn't break the bank.
CDJs / Turntables
Technics SL-1210 MK2 DJ Turntable:
The Technics SL-1210 MK2 is a classic turntable by some of the world's best DJs. It is known for its excellent reliability, durability, and sound quality.
In addition, it features pitch control, adjustable torque settings and anti-skating adjustment. It also includes an S-shaped tonearm with a detachable headshell and removable hinged dust cover.
The platter's slant helps ensure you have better control over your vinyl collection. And when things get messy, remove the slip mat to reveal a clean mat ready for action.
If all of this wasn't enough, there are further adjustments you can make to the needle height, which can help get those pesky scratches out of your vinyl.
The Pioneer CDJ2000NXS2
The Pioneer CDJ2000NXS2 is a top-of-the-line digital turntable that offers many features for professional DJs.
Some of its best features include a large, high-resolution touch screen, Wi-Fi connectivity, rekordbox support, and much more.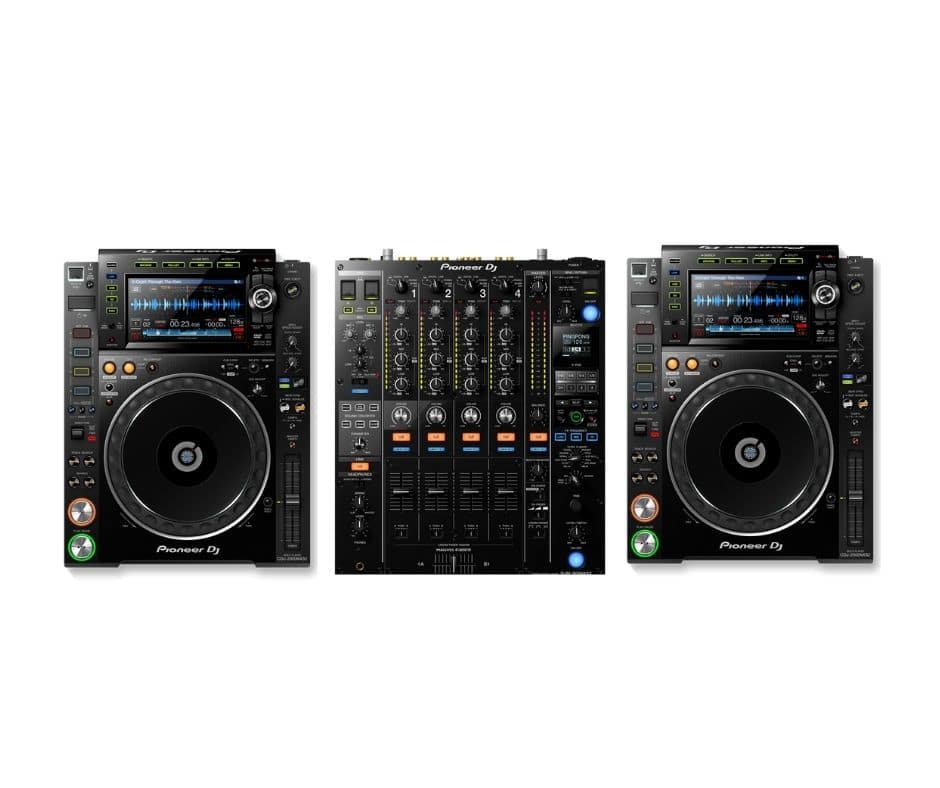 It also has an easy one-touch auto loop function and four hot cues that can be used on either deck.
Additionally, this turntable comes with over 6GB of samples, perfect for sampling new tracks or making beats.
Finally, the Pioneer CDJ2000NXS2 is lightweight at just 9.5 pounds, so it's also extremely portable.
It's essential to note that this model is a little expensive, so if you're an event planner, you can hire this equipment in London.
But it has so many great features which make it worth the price. It also comes with all cables you need right out of the box, so there's no need to purchase any additional equipment.
Numark TTUSB
If you didn't like the previous turntable option and wanted something a bit more affordable, here's a good one that combines contemporary and traditional vibes.
Scratching isn't as excellent with this one, but you can get it done. The TTUSB also makes it simple to create digitised vinyl recordings.
With so many more key turntable features, ranging from anti-shake controls for a good balance to USB computer connectivity, this is a good choice that has received positive feedback from many DJs.
With Line level RCA outputs and a built-in preamp, the table gives you more options for connecting with the music you want.
In today's world, the recorder's USB connection accessibility is critical since everything in modern music is controlled through computers.
If you are more of a casual DJ or prefer recording for fun, the Numark TTUSB can be what you need.
Why? comes with all the cords needed to connect to your computer and a stereo playback system, giving you the best of both worlds.
Speakers
Martin Audio Blackline X8 Speaker
The Martin Audio Blackline X8 Speaker is a top-of-the-line speaker with great sound quality. It is perfect for those who want a great time at their next party.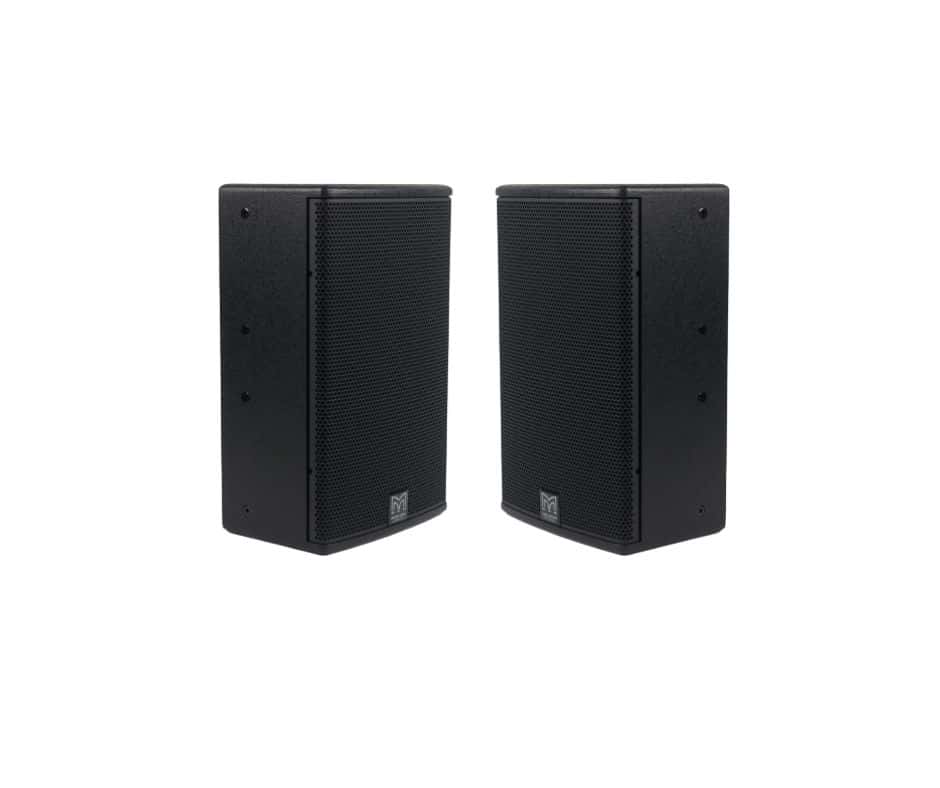 With its 8-inch woofer and 1-inch tweeter, the X8 delivers a clear sound with plenty of basses. Plus, its rugged construction can withstand the rigours of heavy use.
A unique feature of this speaker is its ability to power on without being plugged into an outlet.
It has an input jack, which can be connected directly to a mixer or Amplifier. Additionally, it is very durable, so you won't have to worry about it breaking easily.
Seismic Audio-SA 155.2
If you're a DJ who needs to carry their PA system and speakers to an event or venue (wedding venues, in particular, don't always have their system), this is one of the best speakers to go for.
The Seismic Audio-SA 155.2 is one of our favourite DJ speakers for amplification like no other.
If you're attempting to keep your audience's attention, these speakers will help you because their two 15-inch woofers (50oz magnet with a 2-inch voice coil) offer plenty of power to get the bass up.
In terms of power, they have 500 Watts RMS and 1000 Watts Peak, demonstrating that this is a powerful speaker and is among the best DJ gear when considering the high-quality a speaker is meant to bring to an event.
Two tweeters are also included in the construction for your high-ends, and steel grills around each speaker make this speaker a wonderful choice for all small to medium-sized environments in which you may find yourself DJing.
Amplifiers
Rockville RPA9 3000
The Rockville RPA9 from Rockville is a top recommendation. The Rockville RPA9 3000 is a two-channel amplifier built with a heavy-duty DJ rack mount and 3000 watts of peak power.
Don't be fooled by its lightweight appearance (which makes it easier for DJs to transport), but it's incredibly efficient and long-lasting.
This DJ amplifier works with any configuration. DJs who want great quality from their professional equipment will appreciate the Rockville RPA9 3000 Watt Amplifier since it is built to last.
Denon DJ MC4000
This is a powerful standalone DJ controller that's highly rated by many users instead of one that's exclusively advised for individuals who utilise the software that comes with it.
Regarding premium DJ controllers, the DH MC4000 is outstanding and ranks among the best DJ gear selections.
In keeping with its creative nature, the DJ MC4000 includes a 2-deck Serato DJ.
Touch-activated jog wheels are included for custom cueing and scratching, a separate hot cue for trigger pads (also illuminated), and 100mm pitch faders.
It also offers balanced outs for certain speakers (with independent volume control — extremely useful), two balanced mic inputs, and steel construction to provide a durable and long-lasting investment.
Conclusion
In conclusion, when choosing the best DJ equipment and gear, there is no one-size-fits-all answer.
However, by considering your specific needs and wants, you can narrow your options and find the perfect setup.
When looking at a new piece of DJ equipment or gear, ask yourself: what does this do? How does this work? How much will this cost me?
If you perhaps don't have the money to buy new equipment but are looking for event equipment for hire in London, contact us here, and we'll be happy to help.