Top 12 Event Planning Tips Used By Top Event Planners
Event planning isn't just about the big day. It's also about executing all the details to make that day memorable. 
You take on different tasks and duties as an event planner, so the big day goes off without a hitch. This can be difficult if you are unfamiliar with the checklist often used by top event planners to ensure everything goes as planned. 
These checklists can help you navigate everything from setting up to the launch of your marketing campaign to the execution of the day-of activities at your venue.
This article discusses the top 10 event planning checklists, and what they cover so you can execute them confidently for your next event.
1. Establish Your Event Goals and Objectives
Before you can start planning your event, you need to take a step back and determine what you're planning to achieve with this event. What are your goals and objectives? Once you understand your event goals well, you can start putting together a plan to help you achieve them.  
It would also be great if you also considered the needs of the attendees at your event when determining your event goals. 
Of course, that extends to limitations or constraints that may be in place. For example, if there is an age limit for attendees at the event, one goal may be only to serve drinks and appetizers at an open bar. 
If you are trying to encourage networking between different companies, another goal might be setting up a cocktail reception where they each bring five guests. 
If the primary purpose of your event is just entertainment and not anything else, you might hire some bands or performers to perform at the event throughout the night.
2. Set a Budget
The first step to event planning is setting a budget. You need to know how much you're willing to spend on your event before you can start making any decisions. Once you have a budget, you can start looking for venues, caterers, and other vendors. 
Keep in mind that the cost of an event can quickly spiral out of control, so it's essential to stay within your budget. If you are over budget, don't be afraid to cut back on some elements to stay within your limit. 
It's also a great idea to include what each item will cost ahead of time when negotiating with potential suppliers. This way, you keep everything in check with no surprises when it comes time to pay. 
And if you want or need help staying on top of finances during your event, hire an event planner or consultant with experience handling event budgets and finances.
3. Find Out About Venue Options
When planning an event, the venue is one of the most important things to consider. You'll need to find a place that's big enough to accommodate your guests, has the right amenities, and is convenient for everyone involved. 
The best way to find a great venue is to ask for recommendations from people or experts who have planned similar events in the past.  
Another thing to do is visit some venues and see what they offer – it's not always easy to find reviews online! Once you've found a few possible options, make sure they are available on the date you want to plan your event.
4. Guest List & RSVP Management
As you start to plan your event, one of the first things you'll need to do is create a guest list. This will help you determine how many people you need to accommodate, what type of venue you'll need, and how much food and drink to serve. 
Once you have your guest list finalized, it's time to start sending out invitations. Again, be sure to include an RSVP card or contact information so your guests can let you know if they'll be able to attend.  
Asking for money upfront may seem daunting, but if you want to ensure you get enough attendees, it might be worth mentioning the cost in your invitation. 
If someone declines on the spot, don't worry! You can always ask them later about attending after making adjustments to the budget based on their response.
5. Security and Transportation Management 
As an event planner, one of your top priorities is keeping your guests safe. Therefore, you should have a comprehensive security plan that includes everything from managing entry and exit points to having a designated security team on site. 
You also need to consider transportation management, especially if your event is in a large venue or city. Make sure you plan to get guests to and from the event safely and on time.  
Consider where they'll park their cars and how they'll get into the venue if there's no direct access. If possible, have designated drivers pick up attendees and ensure they know the emergency contact number, just in case. 
Be aware of public transportation schedules when choosing a date for your event, so it doesn't conflict with any major transit disruptions. 
6. Onsite & After Party Meeting Points
Ensure you have a designated meeting point for guests before and after the event. It will help ensure that everyone knows where to go and that no one gets lost. Make sure your meeting points are easily accessible and marked.  
It is also important to list alternative meeting points in case of emergencies. You should also have someone onsite during the event, just in case something arises.  
They can then relay any information back to the organizer or delegate. If you don't have anyone who can do this, it's a good idea to designate someone from the venue staff as an emergency contact.
7. Hire a Reputable AV Company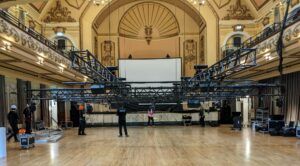 The right AV equipment will help your event stand out. But if you spend thousands of dollars on AV equipment, it's essential to find an experienced company that can provide top-notch customer service. 
When choosing your audio-visual provider, ensure they have a good reputation and a lot of experience with events like yours.  
Ask for references from previous clients and contact those clients directly to ask about their experience. 
In addition, ask the prospective vendor how many people are in their office on any given day so you know how quickly they might be able to get back to you with questions or concerns about your event. 
It's also helpful to get quotes from two or three providers to compare prices and quality. 
8. Ask for Sponsorships
Asking for sponsorships can be daunting, but it's essential to planning a successful event. The key is to remember that businesses are always looking for ways to reach new audiences, and your event is a perfect opportunity for them to do just that.  
You may not get any response, or you may have to politely turn down offers from businesses that don't fit your event's theme. But some will take you up on the offer, even before you've asked.   
To get the most out of this process, look at what kind of sponsorship each business has offered. Then, find one that fits well with your event. 
Ideally, they'll offer something tangible like financial support, space rental, or signage opportunities; but if they're only able to donate funds, then make sure to use them wisely.
9. Prepare For the Weather & Emergency Contingencies
Another part of event planning is preparing for the weather. You need a backup plan in case of rain, snow, heat, or extreme weather. It is also crucial you prepare for emergencies. 
Have a plan in case of fire, power outage, or any other type of emergency. Please talk with your venue about your contingency plans and ensure you get a copy of their evacuation routes and procedures.
If the event is outdoor, ensure you have umbrellas for guests who forget theirs or leave them at home. 
Your vendors should also be set up with umbrellas if they walk around during the event. For an indoor event, make sure your venue has adequate heating and air conditioning units in place.
10. Begin Your Event Publicity and Branding
Find a catchy name for your event that's memorable and relevant to your target audience. This will make it easier for them to remember what you're about, be more likely to share links, and attract more attendees. 
Make sure to define any jargon used in your event name or tagline in your supporting text, so there are no miscommunications between you and your audience. You should also include the definition of the term in the event description if it's not easy to understand. 
Next, figure out who you want to promote your event and how they can do it. There are many different ways they can spread the word. 
You can use social media channels such as Facebook, Twitter, Instagram, Pinterest, and YouTube; by emailing their contacts, posting flyers on their office bulletin board, through word-of-mouth referrals, or mentioning it at work. For maximum impact, consider including all of these options.
11. Coordinate With Event Suppliers
To have a successful event, you must coordinate with all your suppliers. That includes caterers, venues, florists, and any other company you use to help with your event. 
The top event planners have a great working relationship with their suppliers and use them as a resource to help plan the perfect event. 
To create a smooth and easy event, plan to meet with your event suppliers 4-6 weeks before your date to go over your vision for that special day. Meetings should be focused on details, including place settings, décor, and lighting.  
This will help the supplier understand what you want so they can provide their best recommendations. Remember to ask essential questions and bring plenty of ideas with you.
If this is your first time planning an event, it might be worth hiring an event planner with experience coordinating with suppliers or one who helps you plan the entire event so you don't sweat. 
12. Launch Ticket Sales 
It's a great idea to launch ticket sales as soon as possible. This will help you gauge interest and start generating excitement for the event. 
Plus, the sooner you sell tickets, the more time you'll have to market the event and sell even more tickets.
Before you create your event page, launch ticket sales so you can get a sense of how many people are interested in attending. 
Post about it on social media, in an email newsletter, and anywhere else that will help drive traffic to your ticketing page.
Conclusion
A great event doesn't just happen. It's planned. And the best event planners know that a successful event is all in the details. There are a million things to remember from start to finish, and coordinating an event can be daunting. 
That's why we curated this checklist used by experienced professionals. These checklists will help you brand your event, begin your publicity, and ensure that every detail is accounted for.